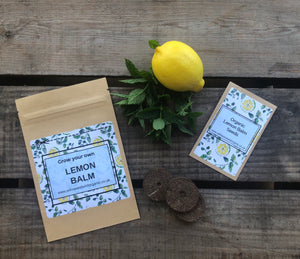 Grow your own Lemon Balm Grow Bag
The Lemon Balm Grow Bag contains everything you need to grow your own delicious Lemon Balm plants inside, at any time of the year.
This wonderful idea uses the eco-friendly bag to grow your seeds in and everything you need to grow fresh Lemon Balm including seeds and magic, peat free compost discs are inside the bag!
These grow bags are great to give as gifts, as stocking fillers, party favours or wedding guest gifts and great fun to do with children who can have their own windowsill garden.
What's in the bag?
- seeds
- peat-free compost discs
- integrated growbag
- full easy-to-follow instructions for sowing, growing and planting your plants
Everything in this Grow Bag Kit is recyclable, compostable or reusable.